Peanut Butter Energy Bites
These can be a bit trickier to make zero waste, but the best place to get ingredients would be the bulk foods section of a supermarket like Whole Foods. Other items like peanut butter and honey should be bought in glass jars that can be recycled afterwards. There's plenty of variations and additions you can make to this recipe  as well, with tons of recipes online for inspiration.
Image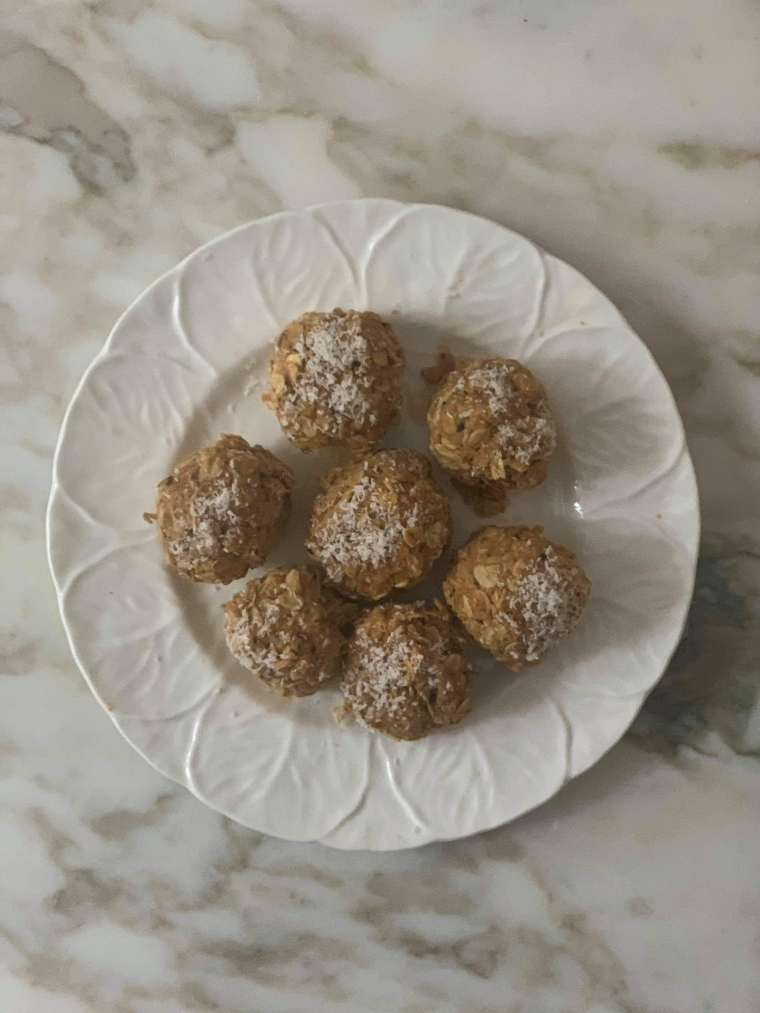 Ingredients and tools
Peanut butter

Rolled oats

Honey or other sweetener (rice malt syrup/agave)

Desiccated coconut

Nut(s) or seed(s) (I used a seed mix of pumpkin, chia, hemp, and flax seeds)

Mixing bowl

Mixing spoon

Measuring cup
Instructions
Combine all ingredients into a bowl.

Using your hands or a spoon, roll into small balls

Refrigerate so they remain solid, and enjoy when you want!
Baked Kale Chips
A healthy and simple zero waste snack. Plastic-free kale can be found at most farmers' markets, and herbs and oil can be found at grocery stores in glass, which is more recyclable than hard plastic.
Image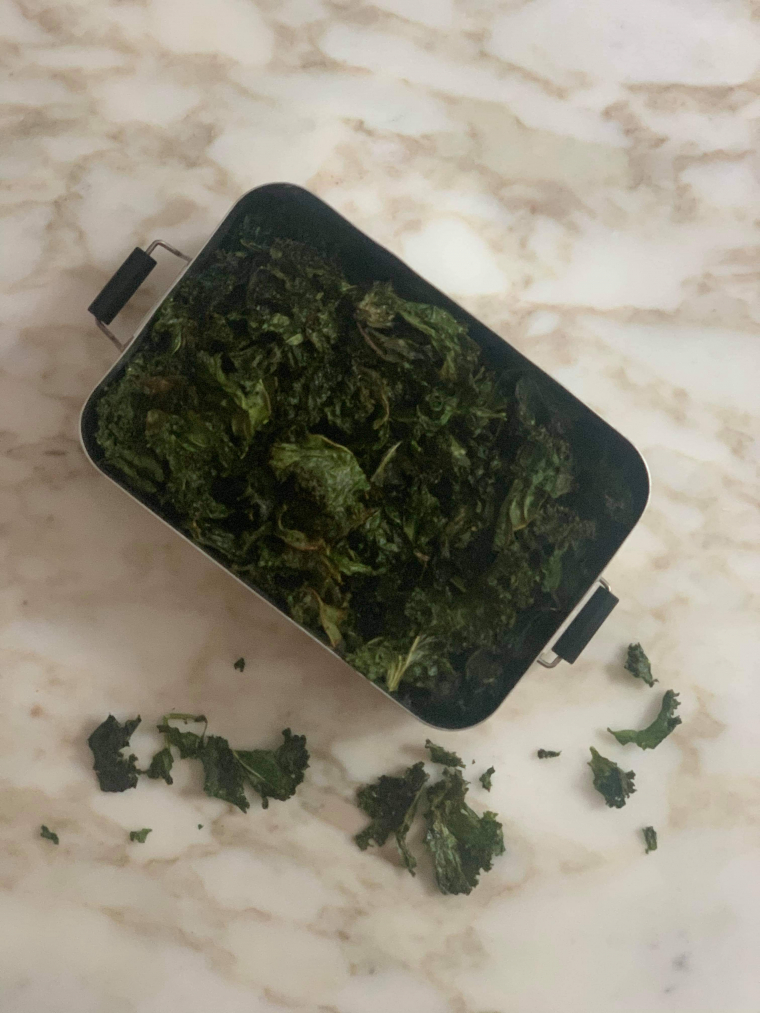 Ingredients and tools
Kale

Olive oil

Salt & Pepper

Any spices for seasoning

Mixing bowl

Baking Tray

Tea towel for patting dry
Instructions
Preheat oven to about 175 C.

Rinse kale under water and pat dry with a clean cloth tea towel to remove moisture.

Remove leaves from stocks and tear apart into bite size pieces into a mixing bowl.

Drizzle olive oil and grind salt, pepper, and additions of any other herbs or spices into the bowl and stir until leaves are coated.

Place kale onto a baking tray and spread out evenly. You don't need to use baking/parchment paper  but you could use a reusable silicon sheet. The kale shouldn't stick to the tray anyways so clean up is easy!

Bake for 10-15 minutes, checking regularly to ensure kale does not burn. When the kale feels crisp, remove and place in a container to enjoy.
Chickpea Crisps
A tasty and crispy snack to enjoy on all occasions, these chickpea crisps can be seasoned with your favourite herbs and spices and are very simple to make. The easiest option is to buy an aluminium can of chickpeas and recycle it once used, or even better, buy dry chickpeas from a local bulk store and soak them in water.
Image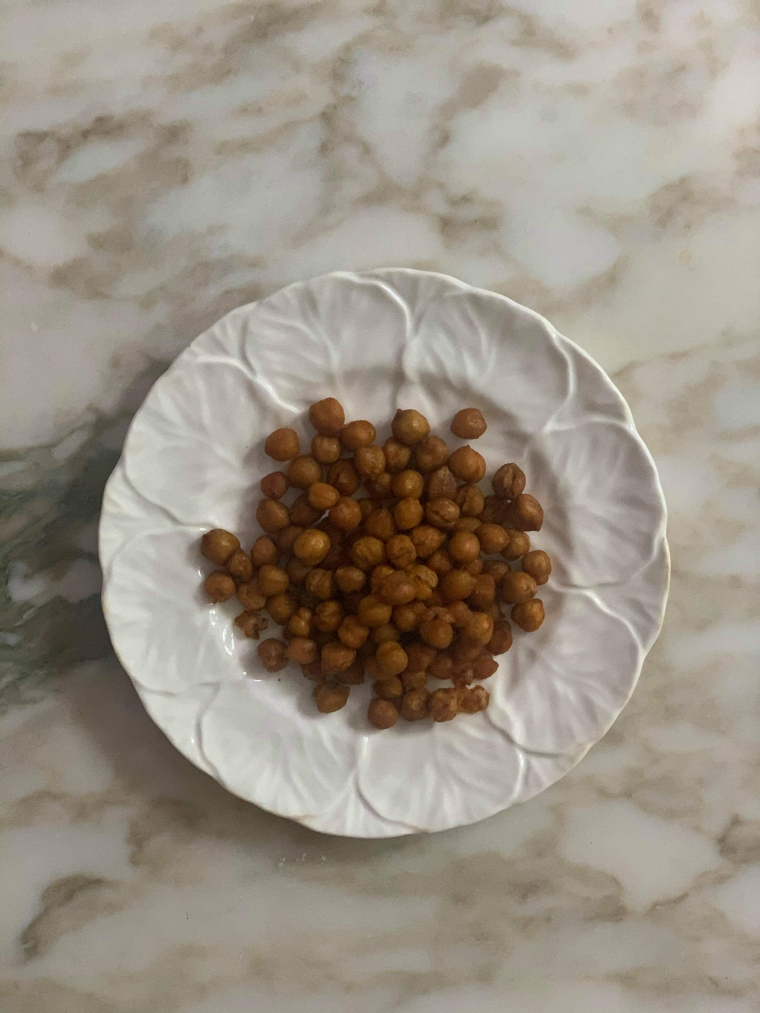 Ingredients and tools
Chickpeas (Canned or dried)

Olive oil

Salt, pepper and any other herbs and spices

Small mixing bowl

Tea towel for patting dry
Instructions
Preheat oven to 175 C

Drain canned chickpeas/dried chickpeas that have been soaking in water overnight.

Lay tea towel down and place chickpeas in towel. Use the towel to pat the chickpeas as dry as possible to remove moisture. If skins fall off, remove and place in compost.

Put chickpeas in small bowl and add small amount of olive oil and a generous amount of herbs or spices (more flavour the better!).

Place chickpeas in oven and bake for 30 minutes or more, until chickpeas are nice and crisp.
Homemade popcorn
My absolute favourite zero waste snack. Buying popcorn seeds at a bulk foods store doesn't have to break the bank and can make a generous amount of popcorn to snack on. You can either use a saucepan, or, if you have it, a popcorn machine, to make this. It works great as a quick work snack the next day too. Be careful with this one and keep an eye on your pan as both the pan and the oil will get very hot.
Image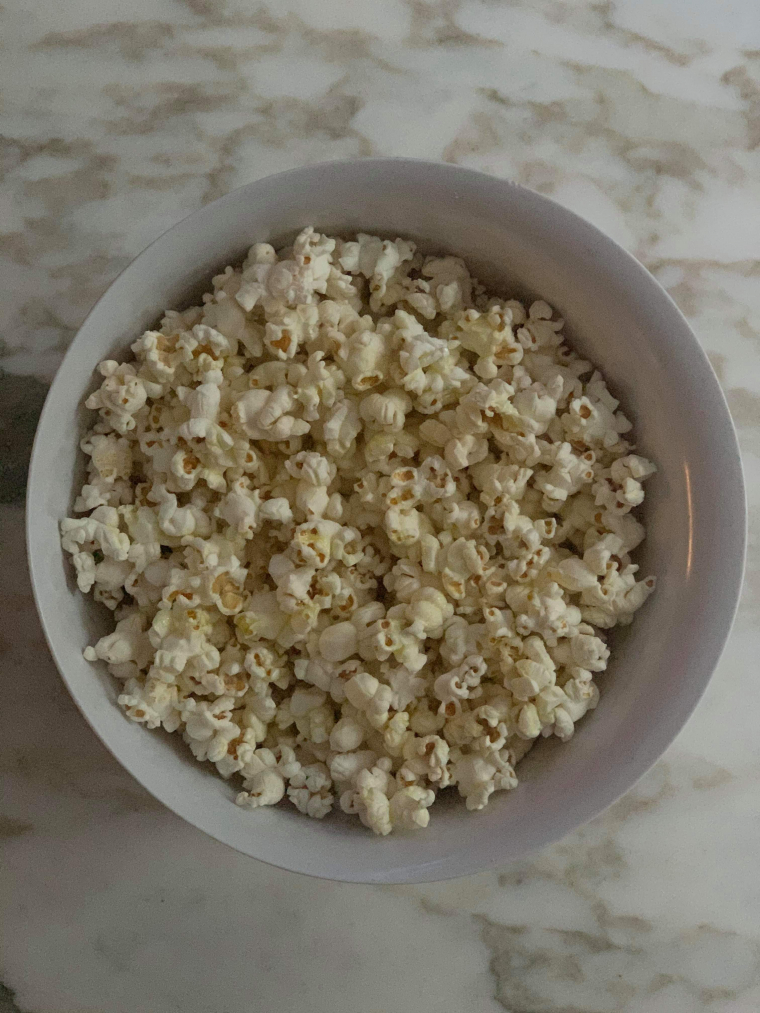 Ingredients and tools
Popcorn seeds

Olive oil

Salt and any other herbs and spices for flavouring

Large saucepan w/ lid

Large bowl
Instructions
Turn on heat to high and place large saucepan on stove. Add olive oil once pan is hot.

Toss in 5 popcorn seeds and wait until one of them pops. The oil is now hot enough to make popcorn.

Place in desired amount of popcorn seeds in pot (stop when bottom of pot is covered, otherwise it won't all fit!)

Once popcorn starts popping frequently, gently move the pot back and forth over the flame to ensure popcorn won't burn. Continue until the popping is about 5 seconds apart from each pop or it stops completely.

Place into large bowl. Drizzle with olive oil and add salt and other seasonings as desired, and mix well. Your hands will get oily but it's well worth it!