The sun is shining and summer has finally arrived, which means it is officially barbecue season! But did you know that an afternoon of grilling could have a substantial environmental impact? According to Take a Bite Out of Climate Change, UK scientists found a typical summer barbecue for four people is responsible for more greenhouse gases than an 80-mile car journey. Planning ahead is key, as a rushed barbecue could easily become an unsustainable one! Follow our top tips to ensure that you maintain your green credentials when dining al fresco.
Ditch the disposable grill
First up, think carefully about your equipment. Steer clear of single-use barbecues, which cannot be recycled and pose a fire risk if they are not disposed of responsibly. During last year's heatwave, all major supermarkets stopped selling them because of concerns they could spark wildfires. Many local authorities have also banned them from parks and beaches because of the harm they can cause to individuals, wildlife and the environment.
A small, basic, reusable barbecue can set you back as little as £15 from new or there are plenty of second hand options to be explored online. There are even portable barbecues available if you don't have your own garden to host in.
While environmental research shows that charcoal grills generate about three times the amount of greenhouse gasses as popular gas grills or their electric counterparts, shopping sustainably can minimise the impact and help maintain that distinctive smoky barbecue taste we all love.
Opt for carbon-neutral homegrown charcoal to support sustainably managed UK woodland, avoid nasty chemicals and give yourself more burning time. Over 90% of the charcoal we get through in the UK currently is imported, and linked to mass deforestation in South America and Africa.
If you need firelighters, make sure they are wood-based rather than petrol-based, which emit emissions and leak chemicals into the atmosphere.
Finally, if your barbecue has a lid and vent make sure you use them! They can keep heat and moisture in, which helps food cook quicker and more evenly.
Image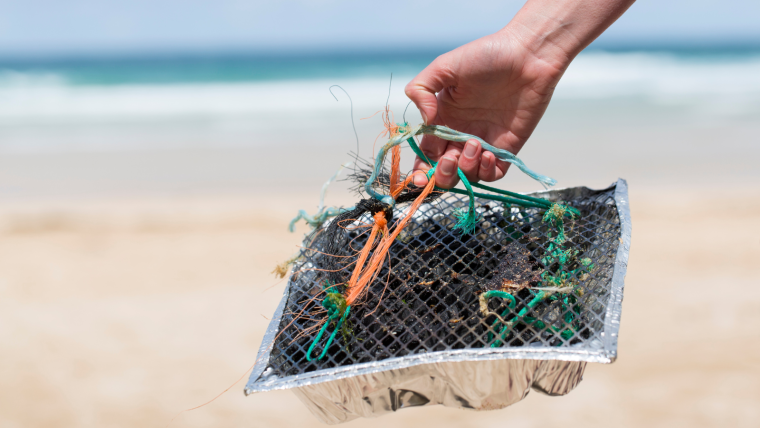 Say no to single-use tableware
You might be tempted to stock up on disposable plates, cups and cutlery to avoid the washing up - particularly if you're expecting a large number of guests – but they cause unnecessary waste. Figures suggest that every year we get through about 1.1billion single-use plates and 4.25billion pieces of disposable cutlery in England. A plastic fork which doesn't end up being incinerated can take 200 years to decompose, potentially polluting our oceans.
Only 10% of these items are recycled, and unfortunately paper alternatives aren't much better as they are normally too dirty or stained to go in the recycling bin.
If you're worried about guests smashing your ceramic crockery, why not invest in some bamboo alternatives? It is the world's fastest growing plant, chemical free, biodegradable and durable.
Check what you have in stock
It's time to think about food! Check what you have in your cupboard, fridge and freezer before hitting the shops.
Try making your own marinades, dips or drinks with what you already have available. Pre-made options might seem appealing but are often unnecessary, and many convenient accompaniments also come in plastic packaging which is difficult to recycle.
When it comes to meat, chose one of the supermarkets which have removed plastic trays or made the switch to vacuum packs. Even better, shop around for a local butcher which sells unpackaged items and offers plastic-free wrapping, or take along your own container.
Choose loose fruit and vegetables over the pre-packaged, bulk-buy options. This not only reduces the unnecessary, hard-to-recycle, plastic packaging waste that ends up in the bin, but it allows you to save money by buying exactly what you want. Potatoes and onions may well be on your barbecue shopping list, but they are among the most wasted fresh products in UK homes.
One fifth of the food we buy gets thrown away, and it makes up a big part of north London's waste. Cutting down on this will reduce carbon dioxide and methane emissions and save you money. In fact, the average household with children is currently estimated to waste £700 of food a year. 
Save your leftovers
Now comes the worst part of any barbecue – the clean up!
Chances are you will have some leftovers, but luckily you can freeze pretty much anything – from cooked vegetables to bread. Bacteria won't grow as long as food is frozen, but the quality will deteriorate over time. It is recommended that cooked beef, lamb and pork dishes are used within 2-3 months, and cooked chicken dishes are used within 4-6 months.  Cool food down quickly and place it in a labelled airtight container before popping it in the freezer.
If there is any leftover salad, you could store it in a sealed container lined with a cloth, paper or wax wrap. These will absorb any excess water and stop it from wilting.
When it comes to cleaning your barbecue, opt for natural store cupboard essentials such as vinegar or baking soda. Don't forget to ditch the paper towels and wipes – switching to a cloth which can be washed and reused is a much more eco-friendly option.
Image