Christmas is a time for getting together and indulging, but an ever-increasing amount of waste is collected during the festive season, and some of it could be avoided, like gift-wrapping.
Have you have ever thought about how a roll of neat, new Christmas wrapping paper so quickly becomes scrunched up waste ready for the bin? A lot of wrapping paper can't be recycled because it is plastic-lined or has glitter stuck on it, which is also made from plastic, or excess sticky tape.
Even if all wrapping paper was recyclable, can we justify the environmental impact of producing it? There are lots of other ways to wrap gifts, and they might save you time, too! Household items like scarves, pillowcases, old comics and magazines make the perfect gift-wrapping alternative to conventional wrapping paper.
NLWA has teamed up with a team of experts and creative minds (Red Ted Art, Style and Sustain, Origami Est and fashion designer Sophie Cochelevou) to provide inspiration and video tutorials for more sustainable gift wrapping. They suggest the following tips to reduce impact on the environment when it comes to wrapping presents this year:
Furoshiki
Use colourful fabric you already have such as scarves, pillowcases or blankets for larger items, similar to the Japanese tradition of Furoshiki. It is a great way to have fun and get creative with fabrics, and there are various techniques to tie your item(s) that will make it look well presented.
Reuse magazines or newspapers
If you're feeling crafty, reuse comics/magazines/newspapers that you already have at home and turn them into Christmas delights, including bows, snowflakes to decorate. These can easily be recycled and reused afterwards.
Brown paper and natural decorations
Image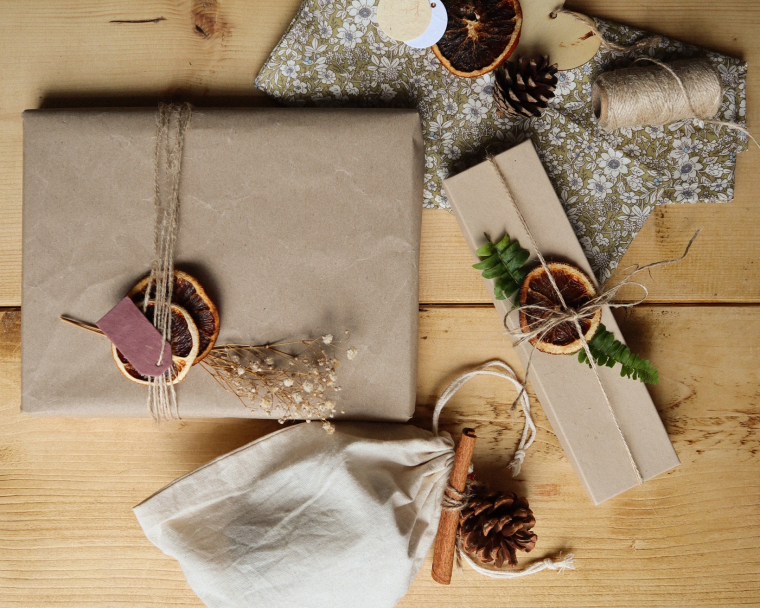 Plain brown paper is a perfect option if you still want the wrapping up effect with a rustic feel. For a festive look, you could tuck in some foraged sprigs of evergreen or pinecones to the knot of the fabric too.
Reuse Gift Bags
If you want to save time and money, reusing gift bags is a great option. Hold onto gift bags you've received, and reuse them time and time again. You can even add some nice decorations for a festive feel.
Textile gift bags
Using textile bags is also a sustainable way to wrap up your Christmas present. You can buy a set of cloth bags to use every year. You can personalise them and add your creative flair.
No need to wrap it up
This year go "naked"! There is no need to wrap all your presents; it's the thought that counts. Avoiding gift wrapping altogether is the most sustainable way for this Christmas gift-giving.
As a minimum this Christmas, steer clear of wrapping paper that's shiny, metallic, laminated, wax-coated or contains glitter. If you don't want to forego wrapping paper, then look for 'recyclable' and the FSC mark (Forest Stewardship Council). Try to minimise the use of sticky tape as it can't be recycled, or even better, avoid it altogether by wrapping your presents origami-style.
To download our pre-loved gifts label, click here.
Find your inspiration
Christmas Wrapping Ideas Pinterest Board
Or follow us on social media:
Image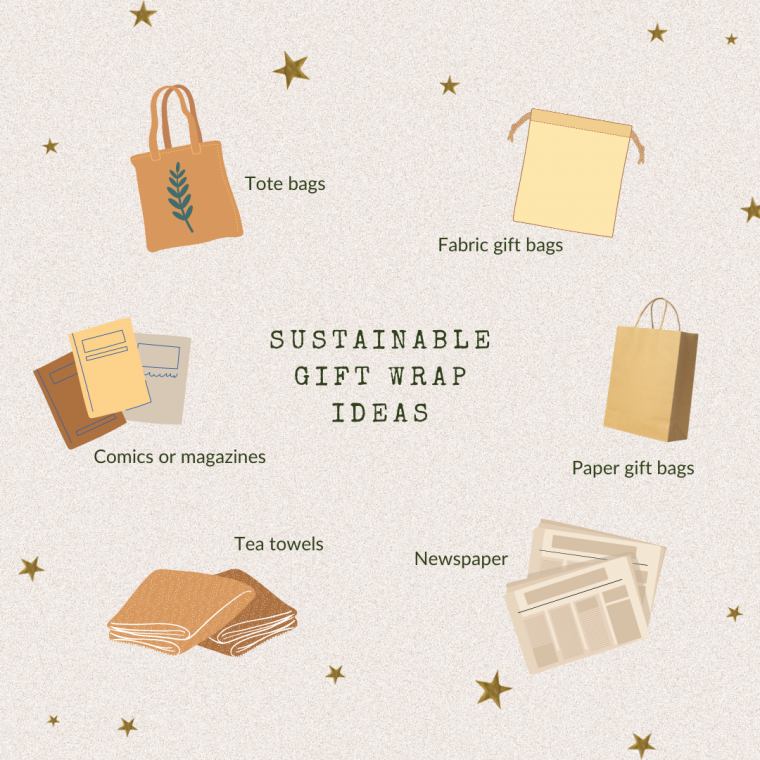 Published date
15 November 2021