North London Waste Authority (NLWA) and Camden Fixing Factory are tackling the growing e-waste problem in the UK by making it easier to recycle and reuse electricals in north London.
Bolstered by funding from NLWA, Fixing Factory is running the Five Weeks of Fixing – a programme that aims to expand the community repair of portable electrical appliances and encourage changes in attitudes and behaviour, to combat the throwaway society.
The project brings together three groups of residents with varying fixing abilities and skill sets and trains them to test, diagnose and repair electrical items safely, so that they can be donated to local beneficiaries.
The first group saw seven residents attend five half-day repair sessions over five consecutive weeks at Pear Tree Hall in Templar House, Cricklewood. Electricals were collected from Regis Road reuse and recycling centre or brought in by the fixers themselves to practise on.
Items from drills to lamps, heaters to toasters were first cleaned, then tested and mended as required. Often fixers noticed that the electricals simply needed a thorough clean to get back to good working order, as was the case with one kettle which was functioning as normal once significant dirt was removed.
The impressive collection of newly fixed appliances will be donated to Granville Community Kitchen in South Kilburn, not only to fulfil the values of the circular model but also to address the need for affordable electricals across the borough.
Last Wednesday 1 November, as the Five Weeks of Fixing at Templar House drew to a close, the seven trained fixers were visited by Councillor Adam Harrison, Cabinet Member for a Sustainable Camden and NLWA Member; Councillor Richard Olszewski, Cabinet Member for Finance and Cost of Living and NLWA Member; Councillor Lorna Greenwood and Councillor Nancy Jirira. The Councillors were able to see the fixers' work in practice, admire the dozens of repaired items and even have a stab at repairing something themselves.
Councillor Adam Harrison said, "Witnessing this talented group take appliances apart and skilfully fix them, reconfirmed to me the importance of repair to the circular economy. As a society we discard 155,000 tonnes of electricals every year, without considering they may have more life in them with simple solutions, like cleaning, replacing a cable or rewiring.
"Projects like the Five Weeks of Fixing exist to tackle this lack of awareness, transform local people's interest in repair into a practical skill and democratise repair for the community."
Dermot Jones, project manager at Camden Fixing Factory, said, "Electronic waste is a growing source of our carbon emissions here in the UK, so getting people rolling up their sleeves and fixing stuff is an incredibly positive and effective climate action.

"Bringing people together to get fixing for a few weeks is incredibly rewarding, especially when the results of our hard work supports local community kitchens, tackling the cost of living crisis and the climate crisis at the same time.  

"Thanks to everyone who took part, gained new skills, and did so much for their community and the climate. This goes to show, anyone can start fixing."
Two other Five Weeks of Fixing programmes are currently underway, with plans in place for a meet-up with all participants upon completion, to celebrate their successes, share what they learned and discuss how to scale up. 
NLWA and Fixing Factory hope that by demonstrating and celebrating fixing locally, there will be a much-needed transformation of behaviour around household e-waste both in Camden and further afield.
Image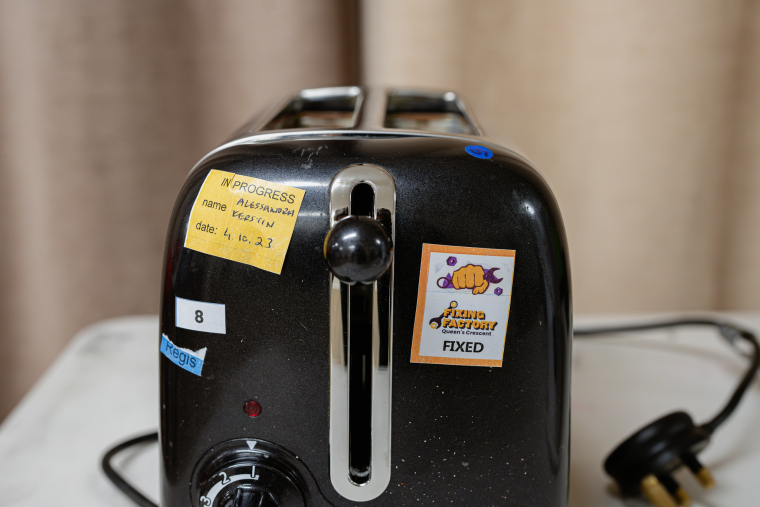 This toaster was fished from the e-waste stream and fixed by Alessandra and Kerstin, two first time fixers. It was taken apart, checked and the crack was fixed with Sugru glue - now it's ready to use again! 
Image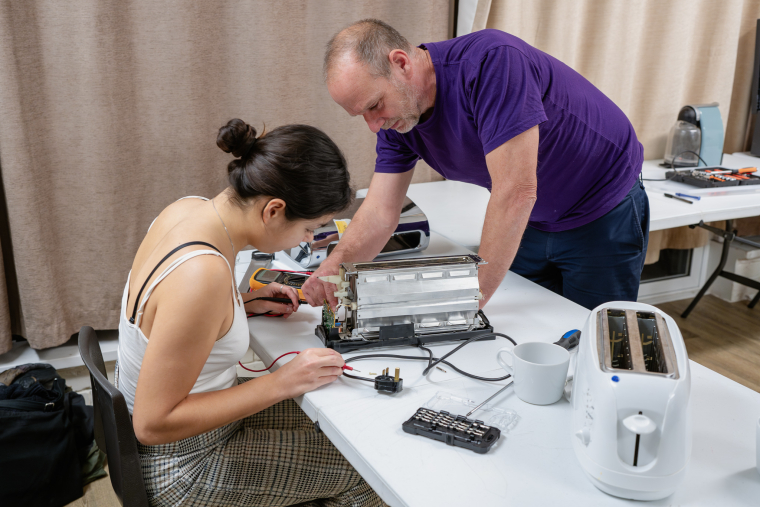 Dermot Jones from Fixing Factory guiding a first time fixer from the programme on how to fix a toaster