Islington residents living in flats above shops along the Holloway Road can now recycle their food scraps in a three-month trial, run by Islington Council in partnership with North London Waste Authority (NLWA). The aim of the project is to see if a food waste recycling service could be offered to residents who live in flats above shops in Islington and other boroughs – around 9,000 households in Islington alone.  
Increasing the recycling of food is an important way to combat the climate emergency as it helps to reduce emissions of carbon dioxide and methane. Food waste can be made into eco-friendly fertilisers for farms and to generate electricity.  
Flats above shops typically have no space for recycling or composting, with bags of waste collected from the pavement. Without the ability to use private containers on the pavement, the collection of food waste has previously been impractical for flats above shops.  
Islington's trial aims to solve this problem by providing communal, on-street designated bins for people living in flats above shops to deposit their food waste. In the Holloway Road trial, which aims to encourage 220 households to take part, there will be one street bin for every 33 households. On-street food waste bins will be emptied at least once a week and regularly cleaned and monitored.  
Council and NLWA officers are visiting homes in the Holloway Road to let them know about the service and to give out kitchen caddies and liners to allow residents to collect their food scraps. Resident surveys will be conducted during the trial to help assess residents' motivations, use of the service, and any barriers. Food waste collected will also be weighed to evaluate the scheme's success in terms of quantity.  
Cllr Rowena Champion, Islington Council's Executive Member for Environment, Air Quality, and Transport, said: "We're facing a climate emergency, and it's therefore essential that we take action to create a cleaner, greener, healthier borough for everyone.
"Encouraging and enabling local people, businesses and partners to change their behaviours to create a more environmentally-friendly borough is key to achieving this. We know that supporting a circular economy and reducing waste including food waste is critical to creating a greener future, and the council is continuing to work hard to increase recycling in the borough.
"By trialling a food waste recycling service for flats above shops, we can help support hundreds of households to make more environmentally-friendly choices about how they dispose of their food waste. We look forward to seeing the benefits this will bring to local people, with a view to rolling the service out to thousands of households if the trial is successful."
Image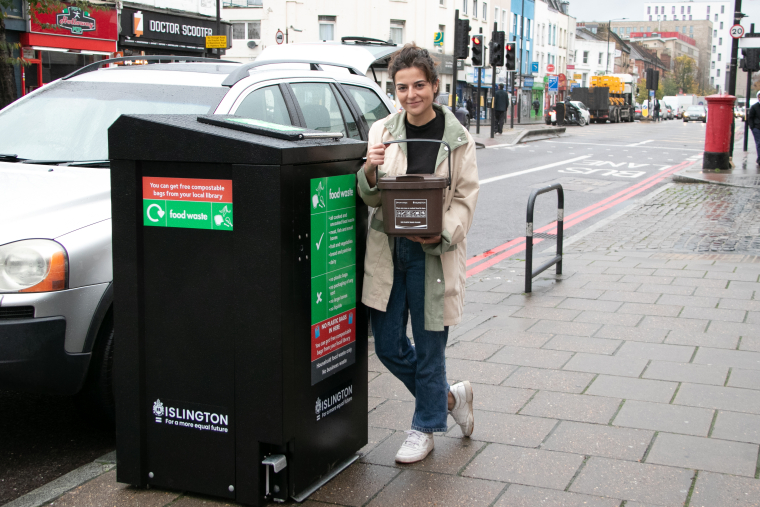 Islington resident, Noémie Bourguignon, with her new food waste caddy, beside one of the on-street designated bins along the Holloway Road.