Image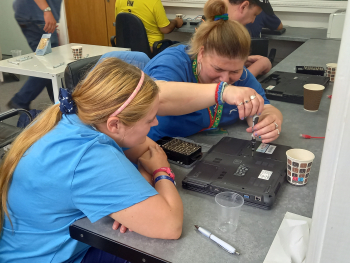 2econd Chance is a not-for profit computer recycling company whose mission is to reduce e-waste, bridge the digital divide and be a stepping stone into employment for those furthest away from the job market. Unwanted devices from schools and businesses which would otherwise have been thrown away are donated to them for refurbishment. Completed machines are either sold at an affordable cost with 25% being donated back into the community through their partners.  
 
North London Waste Authority (NLWA) has awarded 2econd Chance funding through the North London Community Fund, which supports organisations to either develop new approaches to reducing waste, or extend their existing waste prevention activity.  
Thanks to the funding, 2econd Chance will donate 100 refurbished laptops to people in need through Barnet's voluntary and community sectors by March 2024. Every machine donated to 2econd Chance will provide meaningful work for those furthest away from the job market as part of the training programme.  
Last week, NLWA received the fantastic news that the team at 2econd Chance celebrated donating their 100th refurbished laptop. This means they've already reached one of their goals, ahead of schedule! The laptop request came from the Department for Work and Pensions on behalf of a job seeker based in Harrow. Hopefully, the laptop donation will unlock the potential for this resident to find work and get to where they want to be.
So what is 2econd Chance's magic? What do they do to old devices to breath a new lease of life into them?
First they check the machine in with its serial number and customer information.
Depending on the specification of the device, Windows 10 or 11 is installed using a bootable USB key.  
After the installation is complete the existing partitions on the hard drive are deleted. 
If the donor has requested additional secure wiping, this can be done either with specialist software or destroying and replacing the hard drive. 
Once hard drives have been wiped, a data wiping certification is issued.
When the installation is complete, the full Microsoft updates are run and checks are made to ensure the Windows licence has been activated. 
As part of the final testing process, the camera, speakers and microphones are checked and browsing history is deleted. The laptop or desktop is now ready to be distributed to a new home. 
Find out more about 2econd Chance's meaningful work, contributing to the circular economy and making a real difference to local people: www.2econdchance.co.uk 
How you can support
Image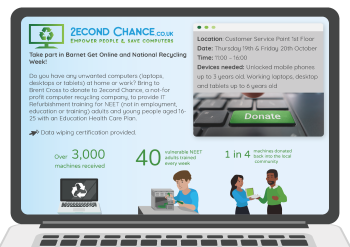 To mark Barnet Get Online Week and National Recycling Week (16-22 October), 2econd Chance have set up a donation point at Brent Cross Shopping Centre in Barnet for any computers (laptops, desktops or tablets) that you no longer need.  
On Thursday 19 October and Friday 20th October 2023 between 11am and 4pm you can drop off your unwanted devices, helping to reduce e-waste and keep valuable items in circulation for even longer. 
For more details check out our event page. 
*Please note we only accept working laptops and desktops up to 8 years old and unlocked mobile phones up to 3 years old.