Recycling can be confusing. Some objects carry recycling symbols while others don't. Many are labelled in misleading or unclear ways. Others refer to the packaging but not the contents, leading things to be placed in the recycling, like nappies, that really shouldn't. And what's the deal with plastic bags? 

North London alone produces over 700,000 tonnes of waste every year and the more that waste is recycled, the less of it goes to landfill or energy recovery. 
Local councils are increasingly making it harder for people to ignore recycling, and rightly so. They have taken measures such as reducing household waste collections to once a fortnight, giving residents smaller waste bins and increasing the frequency of recycling collections.
Recycling tips
London homes are not known for an abundance of space, so what's the best way of sorting your recycling without it taking over your house?
If your kitchen is small, create a recycling point on the back of a door, or in your garden or balcony. Old sheds, filing cabinets or second-hand children's wardrobes look neat and tidy and won't take away from your enjoyment of your outside space. 
Not enough floor space? Why not put up some wall shelves or metal hooks and hang your sorting containers on there?
Don't try to do too much at once. Pick one manageable habit a month and see how it fits in with your routine, whether it's rinsing empty jars, bringing empty shampoo bottles from the bathroom, or collecting batteries to take to a recycling point. Once you've integrated that in your routine, take the next step in the right direction.
Ask your friends or neighbours for their favourite recycling practices and see if you can try them too. Maybe you can also create a communal compost bin or exchange children's clothes once they've been outgrown.
Image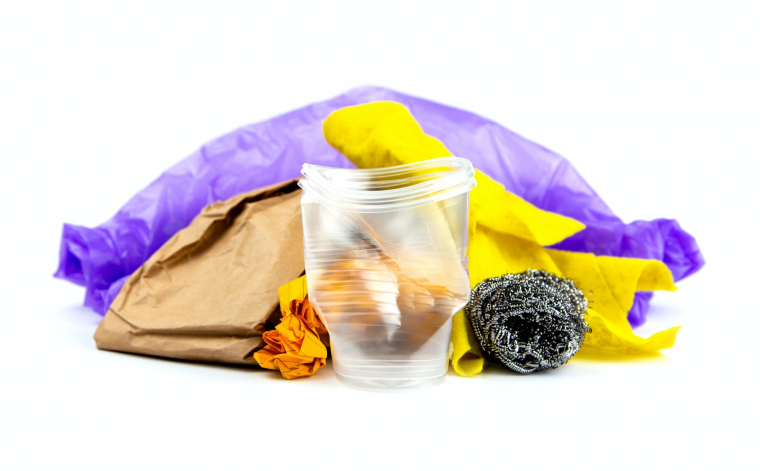 If you're really busy and rely on takeaways a lot, look into making batches of food once a week/month and freeze them. This way you can still have food at a moment's notice but also reduce on the amount of often unrecyclable take away containers you dispose of every week. You'll be saving money too. 
Find out from your local supermarket if you can take some items back to them for recycling. Many take back plastic carrier bags, or other types of plastic film (often called "flexible plastic") which cannot go in your bin. You can easily integrate this as part of your weekly shopping routine or make it a job for the kids and help them earn some pocket money If it's done on a regular basis then it's more likely to become a habit they carry into adulthood. Some supermarkets even have small electrical appliance recycling bins.
Collapse cardboard boxes and crush plastic bottles for better use of your recycling bin.
Book a visit to your local reuse and recycling centre (RRC) to dispose of the items that don't go in the household recycling like clothes and DYI waste.  
Get your loo roll online. They are priced to be competitive with supermarkets and come in recyclable boxes and wrappers saving quite a lot of plastic in the long run. 
If you have something that you've got no idea how to dispose of, you can refer to our A-Z or have a look at food and item sharing apps like olio, trash nothing or Freecycle as well as Facebook Marketplace or Gumtree. What's no longer useful to you could be a lifeline for someone else, especially in the case of old clothes, furniture or kitchen equipment - as well as unwanted but still usable food. Plus, they'll probably come and collect, saving you a trip to the RRC.
Published
15 September 2021