As part of our My Wardrobe, My Way campaign we spoke to fashion editor and stylist Wendy Rigg about how to build a capsule wardrobe using the clothes you already have. It's not about buying new; it's about creating new ways to wear old favourites.
It's time to reappraise your wardrobe as we move into colder weather. Autumn means layering up those seasonless pieces in a way that's new and contemporary. If you organise your clothes so that you know exactly where everything is and what works with what, you'll never be at a loss for what to wear. 
Building your own capsule wardrobe
It's likely that all the items you need for a capsule wardrobe are there in your closet already. From this list, you can check off what you have. Don't worry if you don't have everything - this is intended as a rough guide you can adapt according to your lifestyle.
Image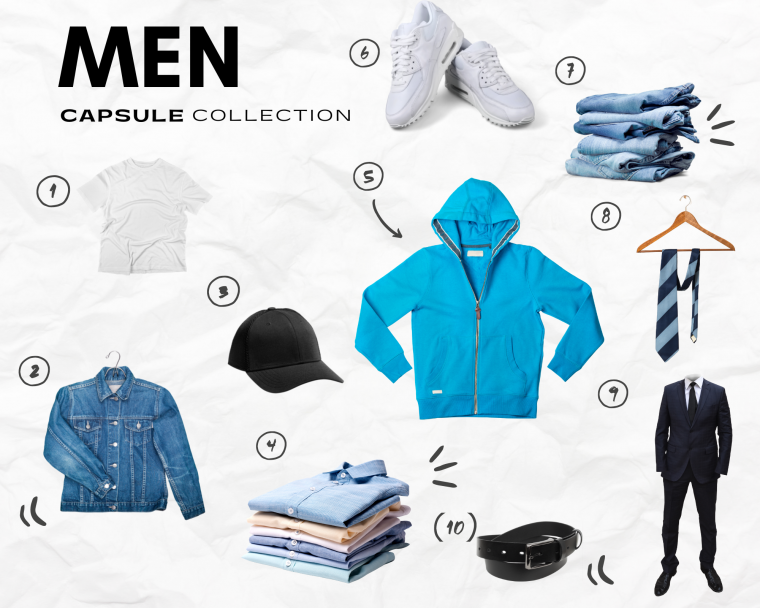 Selection of black and white T-shirts, pale blue shirt, white shirt, polo shirt, off duty hoodie or sweatshirt, classic wool coat, black roll neck, denim jacket, denim shirt, slim-fit indigo jeans, black jeans, cord trousers, grey single-breasted suit, navy single-breasted suit, trench coat, leather jacket, tuxedo suit and shirt, V-neck sweaters. Accessories: Caps, trilby, fedora, knitted tie, belts, trainers, Chelsea boots, plain lace-up shoes, hiking boots, trainers, cashmere scarf, leather gloves.
Check out this Pinterest board for men's clothes.
Image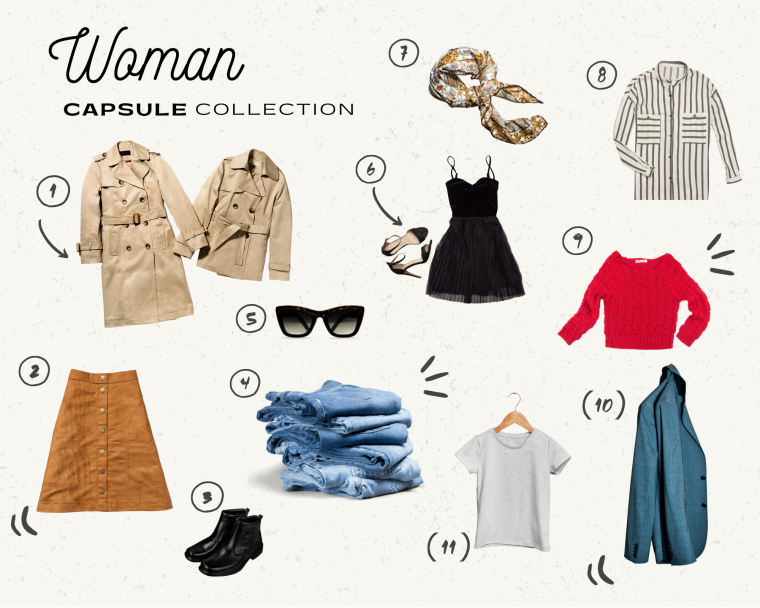 Trench coat, wool coat, camisole top, wide-legged trousers, white T-shirt, denim shirt, white shirt, blazer, joggers, cashmere sweater, jumpsuit, LBD, biker jacket, denim skirt, bomber jacket, black cigarette pants, print blouse, leather trousers, jeans, turtleneck, hoodie, striped top, midi dress, trouser suit, pencil skirt, leather trousers, oversized sweater, pashmina, track pants with side stripe, tuxedo jacket, sequin top, band T-shirt. Accessories: Flat hiker style boots, Chelsea boots, stiletto courts, trainers, western boots, oversized sunglasses, ballet flats.
Check out this Pinterest board for women's clothes.
Get organised
Organisation is key so that you know what you already have in your wardrobe. Get good coat hangers that clothes don't slip off and arrange everything in groups. 
PRO TIP: Keep all the hangers facing one way, and when you wear something turn the hanger the other way round – that way you can see what you've worn. If you haven't worn a piece of clothing for six months, think about taking it to the charity shop. 
Image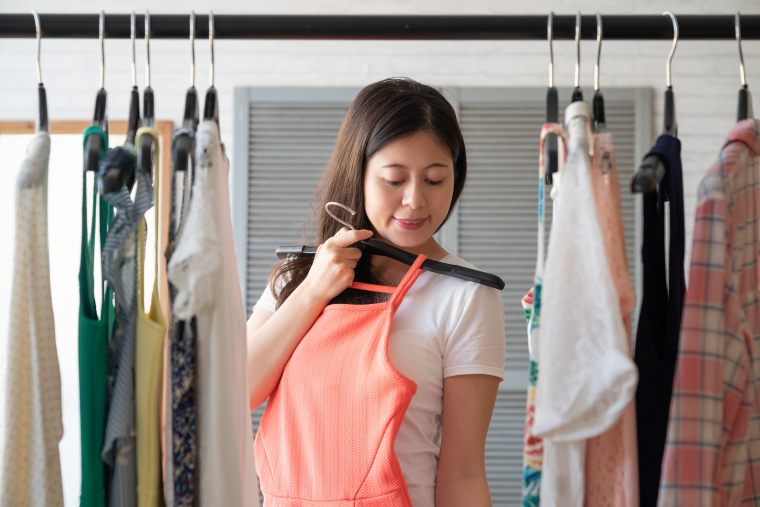 Take care of your clothes
Autumn and winter will see moths appearing so keep on top of that situation - I like www.totalwardrobecare.co.uk for all solutions to the moth problem. Keep your lovely wool and cashmere sweaters zipped away in lavender-scented bags. If your favourite sweaters have pills, or balls of fluff on them you can get a great bobble buster and bring them back to life in the blink of an eye. 
Layering
The idea is to go seasonless so that we're not slaves to ever-changing trends. As it gets colder women can wear summer dresses layered over a polo neck, with tights and boots, and guys can pair that white T-shirt with a wool V-neck sweater under a jacket, and with favourite jeans.
A denim shirt makes a great layer worn over a roll neck, and guys will wear this with favourite trousers, while girls can wear a stripey top under a denim shirt and add joggers or leather trousers. Get creative with ways to wear things and have a try on session one rainy Sunday. 
Image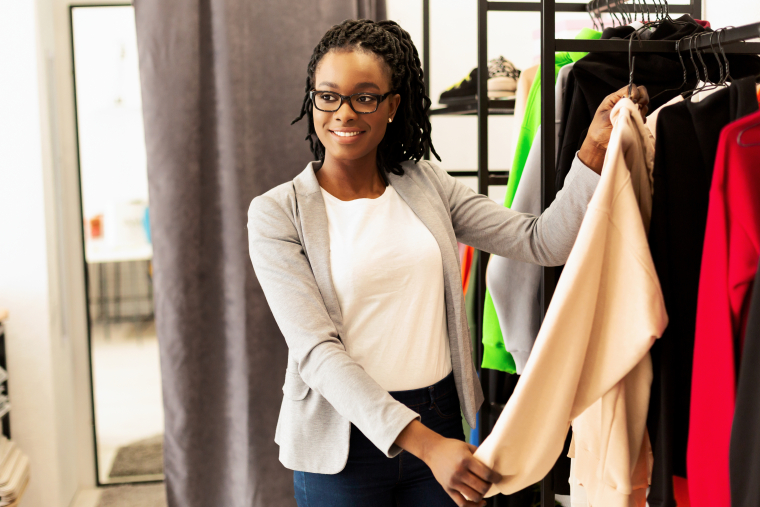 Sequins by day
A great way to add a bit of wow factor to daywear is by wearing sequins with casual clothes – you could try sequin trousers with an oversized sweater and quilted or jacket and trainers. Or a sparkly top can go with joggers and a puffer jacket and hiking boots. It's a great way to liven up your look. 
Smarten up loungewear
Those joggers and sweatshirts that you wore all last winter can get a new lease of life by pairing them with a smart tailored jacket. This works with both cuffed trousers and those with a side stripe, and it can be a jacket with a classic pattern like a Prince of Wales check. 
DIY styling tricks
Instead of buying new, girls can update sweaters, blouses, and dresses by simply buying a detachable collar – there are lots of small companies upcycling fabrics and turning them into cute collars online. Both men and women can look for iron-on faux suede patches or leather ones to cover worn-out elbows on jackets or sweaters. Repairing items gives them a treasured, loved and lived-in look that's on-trend right now. Look for YouTube videos on how to darn holes in sweaters – or how to repair denim. 
Most importantly, remember it's your wardrobe your way. 
Published
25 October 2021