On Tuesday 16 February NLWA held its second North London Waste Prevention Exchange to share information on how behaviour change can be achieved via waste prevention activities. The event was held at Inmarsat Conference Centre in Islington and gave the opportunity to participants to consider the effectiveness of public awareness campaigns, how awareness can be translated into action and the psychology behind attitudes and behaviour.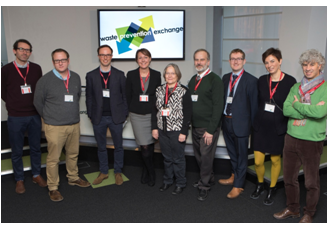 The North London Waste Prevention Exchange was attended by 123 delegates, including officers from central government, regional authorities, local authorities, third and private sector. Additionally, presence of information stands from NLWA, DHL Envirosolutions, EcoACTIVE, Groundwork London and Restore Community Projects provided delegates with the opportunity to find out more about local waste prevention, re-use, recycling and educational projects. This was also a great occasion for delegates to network and taste delicious food cooked using recipes taken from the North London Food Lovers' Cookbook.
The morning session was chaired by Cllr Clyde Loakes, Chair of NLWA and included presentations from national and international speakers, focusing on raising awareness, behaviour change and sharing experiences. The afternoon workshops session focussed on how to produce a successful campaign and how local authority officers can produce programmes that can achieve behaviour change. Seven presentations and two workshops were delivered in total:
Anthesis (UK) Ltd delivered a presentation on the Circular Economy Package and what it means for waste prevention.
University of Westminster spoke about the psychology behind waste prevention behaviours.
Zero Waste Scotland focused on how awareness can be translated into action through effective engagement methods.
Waste and Resources Action Programme (WRAP) delivered a presentation about a strategic vision for waste prevention behaviour change in London.
University of Malta focused on the role of education in behaviour change and what can waste prevention learn from other behaviour change initiatives.
AICA and ERICA (Italy) presented several examples of waste prevention good practices across north Italy.
HUBBUB presented several examples of campaigns delivered across the seven constituent boroughs of the NLWA.
University of Malta delivered a workshop with the aim to provide all the ingredients in order to deliver successful campaigns to achieve behavioural change.
Ricardo AEA delivered a workshop engaging the audience and find with them how local authorities can became agents of behavioural change.
Feedback from the event was positive. In terms of the overall rating, 96% of the respondents stated the seminar as good/excellent. 41% of delegates rated the presentations as excellent, with the remaining 59% rating them as good or very good, with the three most popular being Paul Pace from University of Malta followed by Jon Molynex from Zero Waste Scotland and Dr Rosemary Snelgar from University of Westminster. All presentations and a summary document will all be available to download from the North London Waste Prevention Exchange webpage, http://www.wiseuptowaste.org.uk/waste-less/north-london-waste-prevention-exchange.