Waste prevention is at the heart of North London Waste Authority's (NLWA) mission to preserve resources and the environment for future generations. NLWA set up the North London Community Fund to maximise the efforts of local groups tackling waste prevention problems at the grassroots.

The fund helps community not-for-profit organisations develop new initiatives, innovate their strategies or grow their existing activity to reduce the volume of waste generated in London each day. Last year the authority significantly boosted its annual grants pot and the total funding has doubled to £250,000 this year.
Twelve funded projects are geared around combatting waste in its different guises, from bulky waste to food and textiles, compost to paint and nappies. Five further organisations are being funded to deliver projects around electrical repair.
NLWA's Chair, Cllr Clyde Loakes, said, "Supporting local grassroots organisations is so much more than funding waste prevention initiatives we care about. It's about enabling whole communities to deliver lasting change on the ground that promotes resource efficiency, reduces waste generation and ultimately minimises climate impacts. If we work with residents and organisations at community level, we'll develop a deeper understanding of the waste issues people are facing in north London, and beyond. That's why we've increased the funding again this year, and to our knowledge it's the biggest grants scheme of its type in the country."
Examples of projects being funded this year include:
Octopus Community Network will form a network of three neighbourhood-based food-waste 'Compost Hubs' in Islington on three estates. Each site will be people-powered, community-centred and supported by an 'Urban Soil Farmer'.
Artist Hive Studios CIC based in Upper Edmonton will be offering a 'Repair, Restore, Reuse' workshop programme that will benefit communities in Enfield, aiming to teach local residents the fundamentals of sustainable design in order to tackle waste.
The North London Community Fund was established in 2017 to support waste prevention initiatives happening locally. The fund forms an integral part of NLWA's commitment to enable communities to drive change and extend their impact, as outlined in its Waste Prevention Plan published at the end of 2022.

Here is the complete list of fund recipients:
The Inconvenient Store CIC running the 'E11 Circular Hub' in Waltham Forest
Garden of Earthly Delights running the 'Woodshop of Recycled Delights' in Hackney
Octopus Community Network running the 'Urban Soil Food' in Islington
Artist Hive Studios CIC running 'The Fundamentals of Sustainable Design' in Enfield
Our Home Our Planet CIC running the 'Eco Show and Tell Community Events' in Barnet
Forest Recycling Project running 'Tackling North London Paint Waste' in Waltham Forest
Fashion for Future running 'Free Mending and Upcycling' workshops in Hackney
Camden New Town Community Festival running 'CNTCF Fix, Make and Mend Project' in Camden
Laburnum Boat Club running 'Using it all Up' in Hackney
Bowes Park Community Association running 'Bounds Green Foodbank Eco Project' in Haringey
Our Yard at Clitterhouse Farm running 'Composting and Food Waste Reduction Pilot Project' in Barnet
Nappy Ever After running 'Nappy Ever After Reboot' in Camden, Hackney and Islington
Mer-IT running free repair services for the community in Camden, Hackney, Haringey and Islington
Possible seeding community repair clubs in Camden
The Mill running Forest Fixers in Waltham Forest
2econd Chance running a refurbished machine donation scheme in Barnet

Haringey Fixers

supporting waste electrical repair in Haringey
Image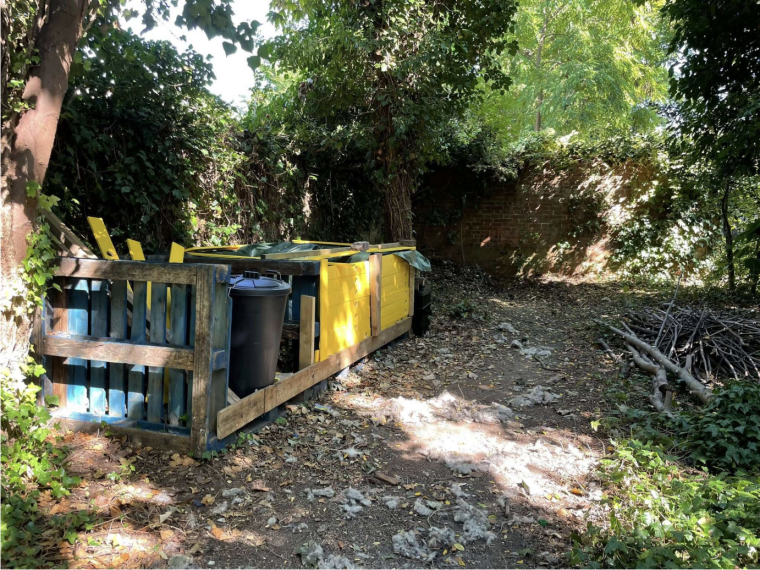 Composting site at Octopus Community Network
Image
Woodwork workshop at Artist Hive Studios